As a Celtics fan I have a lot of concerns about the Celtics going into the playoffs. My biggest concern right now is Garnett. Will he be healthy and ready to go? I don't think anyone is sure at this point. I also think chemistry is a big concern for the celtics right now. It'll be interesting to see how the Celtics play when Garnett is healthy and back in the line up. I think chemistry wont be an issue, but you never know.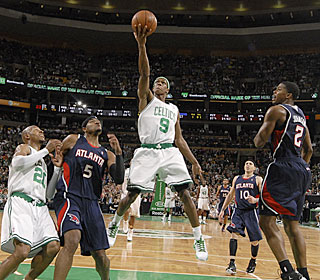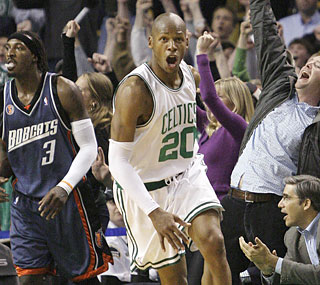 The Celtics are in 2nd place in the Eastern Conference right now with a 58-19 record. There currently 3.5 GB of Cleveland who look to have the #1 seed in the bag. It's going to be tough for the Celtics to catch the Cavs at this point. I'm just hoping they can hold off the Magic for the #2 seed. If the playoffs were to start today, the Celtics would play the Bulls. I think the Celtics wouldn't have any problems with the Bulls. I think the Celtics will end up playing the Bulls or Heat in the first round, but it's hard to say at this point. They really could end up with the Hawks, Sixers, Heat, Bulls or Pistons, depending on if the Celtics are the #2 or #3 seed and how the the #4 through #8 seeds play. I don't see the Celtics having much trouble in the first round anyways.
Eastern Conference Playoff Picture
1. Cleveland
2. Boston
3. Orlando
4. Atlanta
5. Philadelphia
6. Miami
7. Chicago
8. Detriot
The Celtics have 5 games left and the toughest one being against Cleveland. The other 4 seem very winable games for the Celtics as they close out the season. The Heat on Friday, April 10th could be a possible first round match up, along with the Sixers on Tuesday, April 14th. I'm just hoping Garnett gets back and Healthy before the playoffs. I wouldn't mind him coming back a couple games before the playoffs start, so he gets back in the swing of things. I'd be shocked if he didn't play the first playoff game, but you never know. Rivers might want to keep him out until he's 100% healthy, which isn't a bad idea because I think the Celtics could get past the first round without Garnett. Of course we all thought the Celtics would sweep the Hawks in the first round last year and it took us 7 games to beat them. With that in mind, I'd like to see a healthy Garnett playing in the first game of the playoffs.